Third Street South - Stores, Restaurants - Businesses

To identify an association member location on the map below, please check and match with the number/letter listed after the member name in the left column. Example - Eckert Fine Art Galleries 66 can be identified on the map below at the corner of 12th Avenue South and Fourth Street South where the number 66 appears at the far right in the Gold colored group of buildings: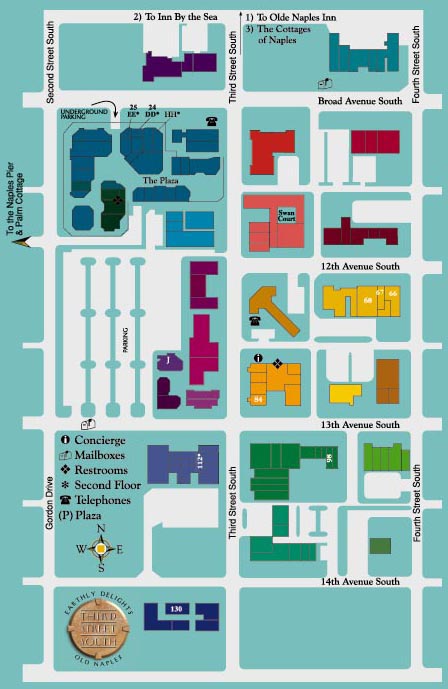 Note: Most members of the Merchant's Association participate in the Third Street Tender Program. Ask the concierge or your hotel.
Art


Antinori Gallery
CW Smith Antiques
The Englishman
Four Winds Gallery 98
Gallery One 104
Gardner Colby Gallery 12
HW Gallery
IAG Gallery
Paul Arsenault Gallery
Peter Garson Gallery
Pierre Bittar Gallery
Provenance Porcelains and Antiques

Cafes and Restaurants

BluSushi
Campiello Ristorante 54
Handsome Harry's Third Street
Bistro
Gaja Ristorante
Jane's Cafe on Third
Old Naples Pub 79
Ridgway Bar & Grill 117
Tommy Bahama's Tropical Cafe 74
Sea Salt

Fashion

The Beach House of Naples 118
Bobby Jones
C. Orrico/ Lilly Pulitzer
Copolon's
Eileen Fisher
Evelyn and Arthur
Fancy Nancy's 55
Gattle's Lingere
Jami's
JCC
J McLaughlin
John Craig
Leggiadro
Marissa Collections 14
Relax
Pratt's Shoe Salon 60
Sonja Benson
Tickled Pink
Tommy Bahama's 73
Zazou (P) 31

Jewelry

A Mano
José Aragón 91
Beadniks
Cleopatra's Barge Fine Jewelry 56
Unique Boutique

Interiors, Books, Gardens and Gifts

Garden District
Gattles
The Workshops of David T. Smith
Third Street South Map and Directions

This guide to Downtown Naples Florida has been online since 1997 providing information about 5th Avenue South, Third Street South, Crayton Cove, Tin City and Bayfront Naples Florida. Copyright © ci-InteractiveTM All Rights Reserved
Visit us at www.cyberisle.com